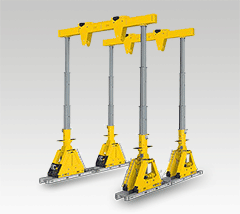 門型油圧リフター
各脚に装備された内蔵型油圧ポンプユニット
無線コントロール・システム(インテリ・リフト)
本体自走機構付き
折り畳み式ブーム(SBL1100のみ)
大型重量物のせり上げ作業にマッチングした幅広い製品ラインアップ(能力60~1,000トン)
移動式クレーンの設置スペースに制限がある場合や、天井クレーンの強度制限がある場合でも、門型油圧リフターは重量物をせり上げ・位置決めを行う際に最適かつ安全で効率的な作業ができます。
レールシステムと合わせて使用することで、門型油圧リフターは重量物を移動することができます。
油圧ポンプユニットや電気配線は各脚に内蔵されており、配管レス仕様で安全な現場の環境を提供できます。
門型油圧リフターはテレスコープ式で、コンパクトにブームを格納することができ、運搬するための特別なフラットベッドトレーラーが必要ありません。)
型式
能力(4本総能力) (kN)
最短全長
(mm)
せり上げ全長
(mm)
質量
(1本あたり)
(kg)
1段目
2段目
3段目
1段目
2段目
3段目
SL60
600
600
−
1997
3387
4956
−
840
SL125
1250
1250
−
2700
4635
6700
−
2130
SL400
4000
4000
1840
3170
5228
7236
9144
4600
SBL500
5200
5200
3000
3028
4950
6850
8560
6500
SBL900
8980
5920
−
5000
8300
11300
−
13350
SBL1000
9160
5920
3240
2982
4942
6852
8562
8550
SBL1100
10680
6880
3840
4370
7304
10068
12002
11950
Intellilift Wireless Controller

The Intellilift wireless control system provides optimum visibility and safety as well as synchronous travel and lift/lower capability with an accuracy of 1".

Meets ASME B30.1-2015

All Enerpac gantries are designed and tested to meet or exceed ASME B30.1-2015.

Self-Contained Hydraulics

Each gantry leg has integrated hydraulic power units providing an uncluttered, safe work area.

Roller Tracks

Self-propelled roller tracks on the SBL900, MBL500 and MBL600 models minimize ground bearing pressure and eliminate wheel spin.

Skid Tracks

Each gantry leg is supported by skid tracks, these tracks distribute the ground bearing pressure of the gantry and provides a means for the gantry to travel back and forth.

Side Shift

Electronic side shift units allow the gantry to move suspended loads seamlessly from side to side.

Foldable Boom

A foldable boom section on the SBL1100 model allows for easy transportation.

Lloyd's Witnessed

All Enerpac gantries are Lloyd's witnessed to 120% of maximum working load at full extension.