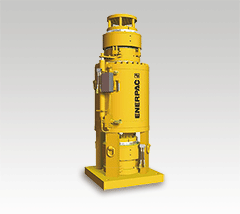 ストランドジャッキ
2種類のワイヤ・ストランド(外径15.7mmと18 .0mm)
ワイヤ・ストランドの上昇・下降動作を安全に制御
(SCCコントロール)
※Smart Cylinder Control制御
現場のニーズに合わせ電動式/ディーゼルエンジン式と幅広い油圧ポンプをラインアップ
高所への超重量物吊り上げ作業に最適
高品質のチャック機構により、安全で正確に重量物の上昇・下降をすることができます。
エナパックの600トン・ワイヤクランプは通常のウィンチに比べて1/30のサイズですが、同等以上の能力があります。
油圧ポンプユニットや電気配線は各脚に内蔵されており、配管レス仕様で安全な現場の環境を提供できます。
エナパックは重量物のリフティング市場に参入して以来、多くの経験から設計開発を行い、信頼性、持続性、多様性、安全性を実現しております。
| 型式 | 能力(kN) | ワイヤ外径(mm) | ワイヤ本数 | 質量(kg) |
| --- | --- | --- | --- | --- |
| HSL3006 | 300 | 15.7 | 3 | 500 |
| HSL7006 | 700 | 15.7 | 7 | 640 |
| HSL20006 | 2000 | 15.7 | 19 | 1300 |
| HSL30006 | 3000 | 15.7 | 31 | 2180 |
| HSL50006 | 5000 | 15.7 | 48 | 3150 |
| HSL4507 | 450 | 18 | 3 | 500 |
| HSL6007 | 600 | 18 | 4 | 650 |
| HSL10007 | 1000 | 18 | 7 | 850 |
| HSL20007 | 2000 | 18 | 12 | 1400 |
| HSL30007 | 3000 | 18 | 19 | 2180 |
| HSL45007 | 4500 | 18 | 31 | 3050 |
| HSL65007 | 6500 | 18 | 43 | 3950 |
| HSL85007 | 8500 | 18 | 55 | 5000 |
| HSL100007 | 10,000 | 18 | 66 | 7650 |
SCC - Smart Cylinder Control System

The SCC system provides synchronous lift/lower capability with an accuracy of 0.1", as well as the ability to operate up to 60 strand jacks simultaneously. This proven control system can be controlled by a single operator from a central location, providing a safe and reliable working environment.

Telescopic Strand Guide Pipes

Telescopic strand guide pipes guide the lifting strand through the strand jack, preventing the strands from bird caging and damaging the strand jack.

Specially Treated Strand Wedges

All strand wedges are hardened and nickel coated to resist corrosion, resulting in an extra-long life.

Lunac Coated Components

Internal components are coated with Lunac, an anti-corrosion coating, making our strand jacks suitable for harsh environments.

Optimized Hydraulic Power Packs

All hydraulic power packs are optimized to work with specific strand jack models. Each power pack is equipped with a variable frequency drive motor for precision control and an integrated hydraulic safety circuit for protection against over pressurization and uncontrolled movement.

Strand Guide

Strand guides guide strand during lifting and lowering to ensure smooth operation.

Strand Recoiler

Strand recoilers passively pay in or pay out strands while lifting and lowering. Ideal for confined spaces where strands cannot freely hang off the strand guide.

Lloyd's Witnessed

All Enerpac strand jacks are Lloyd's witnessed to 120% of maximum working load.
Strand Guide

Provides a guide for the strand as a strand jack lifts the load
Capable of feeding the strands into a strand recoiler
Adjustable height.

Strand Recoiler

Passively pays in or pays out strands while jacking and lowering
Must be used in combination with an Enerpac strand guide.

Strand Dispenser

Essential to safely unbundle a new strand coil
Provides method for dispensing strand for set-up

Strand Wedges

Specially designed for superior performance with Enerpac strand jacks
Three-piece wedge design with a friction grip profile on the inside of each piece
Hardened nickel coated wedges for long life and trouble free wedge release
Wedges are included with every strand jack purchase and available as spare parts.

Heavy-Lifting Strand

Strands available in 0.62 in (15.7 mm) Super or 0.71 in (18 mm) Dyform©
Strand jack and strand combinations are designed to meet a minimum 2.5x safety factor to working load
Constructed of seven twisted, high-capacity steel wires